Dean Blumberg: A Few Of My Favourite Things
Alkemy X director Dean Blumberg chats through the items that keep his creativity flowing, from classic cameras to knowing kitties.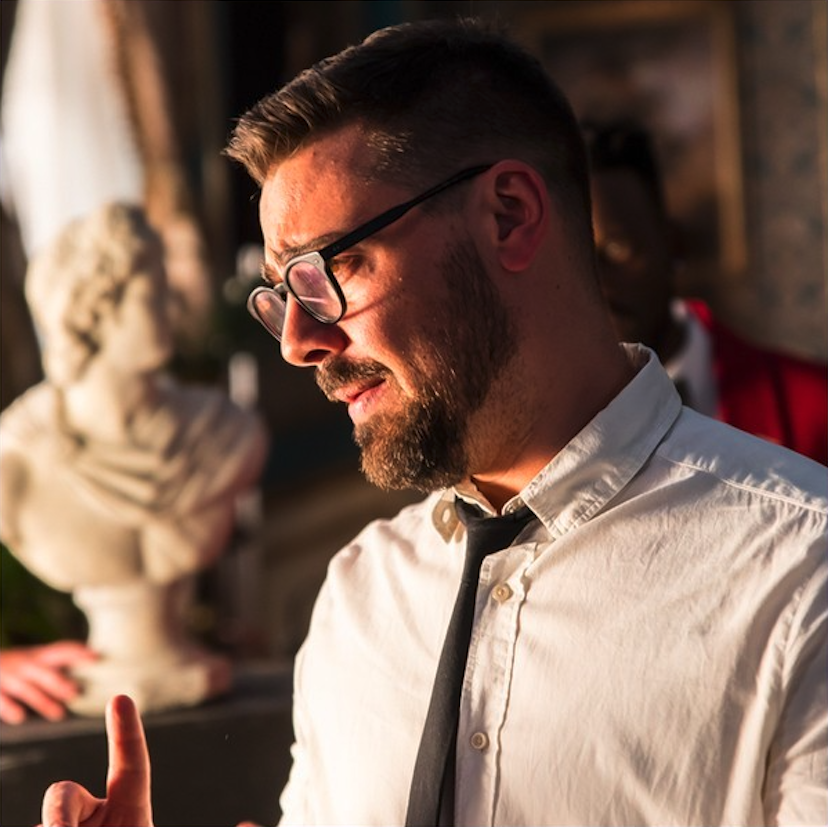 My favourite thing has always been the people I work with. 
I'm a Carney at heart and starting in this business in my teens I fell in love with a film set the first day. I love being around the film crews and actors and people that make a film set so alive. It seems like total chaos that works so magically (most of the time).
I really love shoot days and look forward to them the moment I confirm a job. I have always thrived in the chaotic flux and unpredictability of what can happen on set. And I believe one should always use that to their advantage when trying to infuse their films with some spontaneity. 
However, to thrive in that chaos I have always been a creature of habit and ritual. I'm an avid collector of things, especially cameras, as well as tokens from my shoots. Over the years my office has been a central waystation for me and it is very important that it is covered in inspiration, art, books and a warm place for my cat to sleep.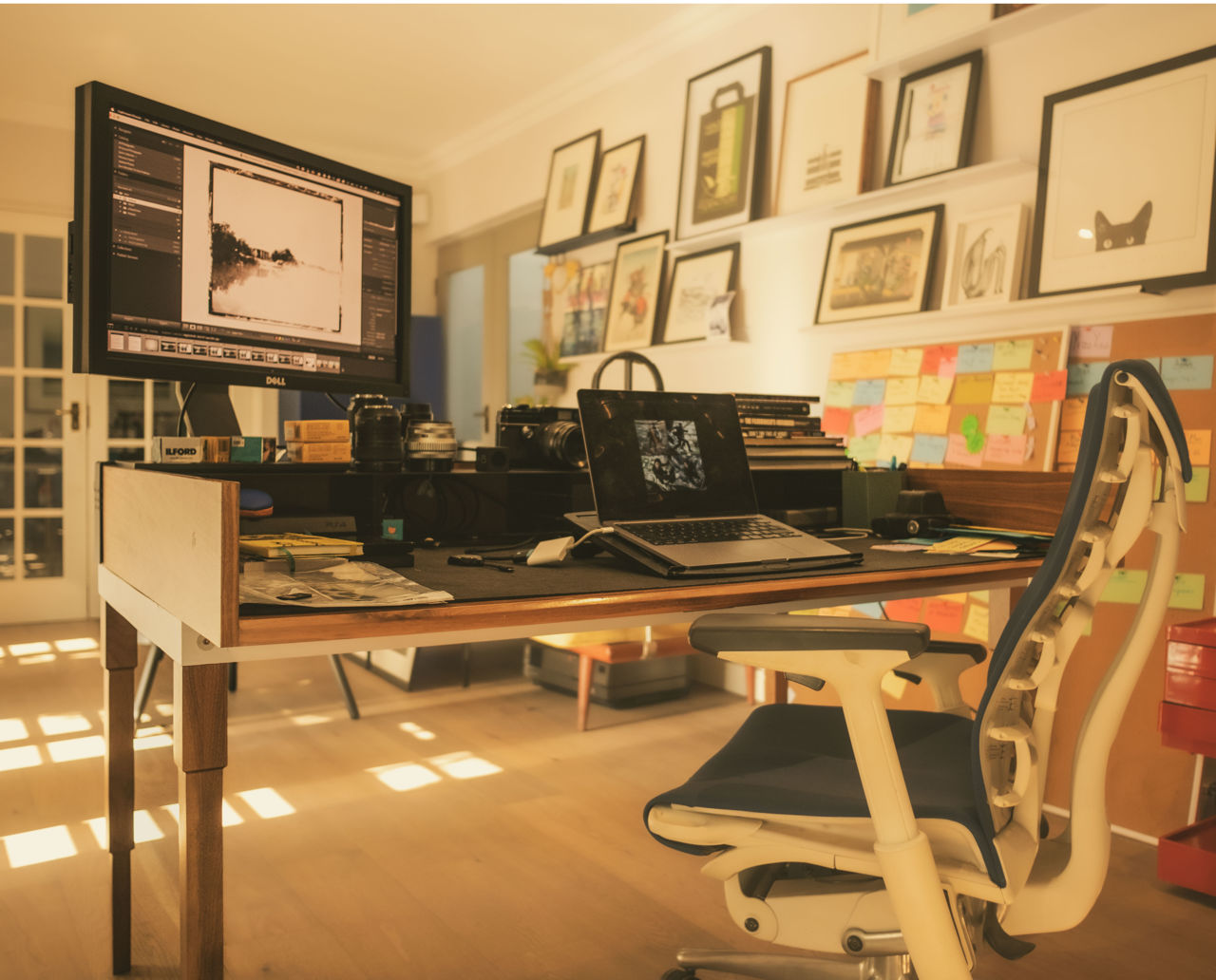 This desk is very special to me as it was the first piece of furniture I ever had made specifically for me. 
My friend, and incredible designer, Joe Paine made it and it suits me perfectly; very mid-century modern with warm walnut finishes and plenty of room for my clutter.
It's always cluttered. 
With books, cameras, photographs and stacks of coloured cards. 
I like to take notes on multiple cards, every one a different sort. 
Then I can lay them out and let the ideas percolate.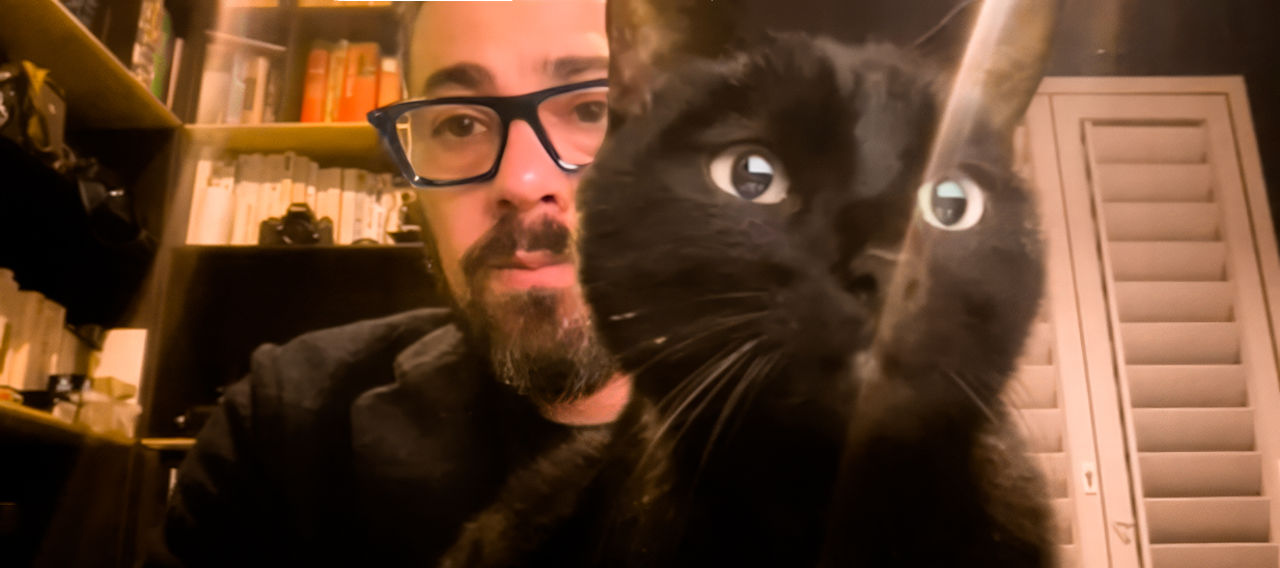 Since he joined me 11 years ago, my cat Newton has been my co-pilot on all of my treatments.
Newton's favourite spot is on my desk next to me or on my lap. 
Before our lives moved to Teams meetings or Zoom calls, Newton was next to me for every phone call and late-night treatment.
Since the video call revolution, Newton has become a constant figure in all of my pitches, briefs and production calls. 
His piercing green eyes have stared down many a CEO of a multinational corporation... or gotten a giggle out of a CMO.
I love this little guy and know he is ready to hang out no matter the hour I have to work at my desk.
These boots were worn by the very first actor I ever cast, in the very first film I wrote and directed in film school many years ago. 
There is a story to go with him, which includes scaling a barracks wall. 
Needless to say, they should've been returned, but after the success of that film, these boots became my version of a lucky rabbit's foot.
I always have a film camera on me. 
As an analogue film junkie and collector, my cameras are all over the house. 
I even have one next to my bed. 
It's hard to choose, but the camera that always goes with me on set, along with one or two others, is my Panon Widelux F7. 
I was inspired by Jeff Bridges' amazing photographs from set with the Widelux and it's a camera I take everywhere with me, especially on set where it allows me to capture quirky panoramas.
My favourite thing to do on set is interact with the actors. 
I love to spend time talking to them about their careers, their aspirations and how they approach their craft. 
For many years now, I've taken Polaroids and Instax photographs of them on set during that process.
I find it a great way to inspire them. Seeing themselves in make-up and wardrobe on a photograph in their hands always seems to bring them incredible joy and enthusiasm for the role.
Although I give the actors the Polaroids to keep, I always take photographs of them first.
Our house is covered in books.
I like to always have one with me when I travel, and the book that always remains inside my laptop bag or camera bag is The Essence of Tai Chi by Waysun Liao. 
It was given to me by a close friend and teacher and it's one of those books that, besides being really little, you can dip into for a moment just to centre yourself and take a break from chaotic environments.